info@anemiapartments-ikaria.com
+30 22750 71190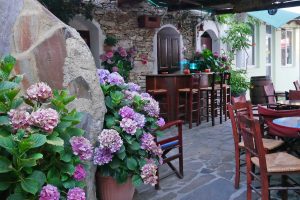 In Ikaria you will find a variety of fresh fish, lamb stew from the so-called "raska", i.e. the semi-wild free range goats, and traditional pies like spinach pie, olive pie, cheese pie with kopanisti and Ikarian pie with herbs. Do not forget to try the local "sufiko", a vegetable, potato, tomato and eggplant casserole, stuffed zucchini flowers, bean "meatballs" and the not so traditional but famous Ikarian lobster spaggeti. You should also taste the amazing "kolokasi" salad (a vegetable that grows in Ikaria).
OUR SUGGESTIONS
Mary Mary
In Armenistis, with a view to the river and the small port of the village. A modern restaurant serving Mediterranean cuisine. Nikos, the restaurant chef, combines traditional Greek recipes with "successful innovations and a touch of gourmet". Reservation needed during high tourist season.
Tel: +30 22750 71595
Anna
Tavern with homemade food in Na, with wonderful views of the Aegean. Fresh fish and well cooked casserole dishes. Try the lamb, lobster spaggeti, moussaka and eggplant salad. Ask for kathouropita (a pie with local spicy kathoura cheese, onion, pepper and tomato). For dessert try the biskotoglyko (bisquit dessert) and homemade rice pudding.
Tel: +30 22750 71489
Sotiris
Located in Agios Polikarpos, it offers grilled meals and delicious cooked food. Large portions and, of course, local wine. The restaurant organizes nights with live music, where the party goes on until dawn, people go out in the streets to dance the Ikariotikos (the traditional dance of Ikaria) and all cars stop to admire them.
Tel: +30 22750 40033
Thea
Located in Na, it offers both meat and fish. Vegetables from her garden and wine she produces herself. An amazing balcony shadowed by vines, with a view to the most beautiful sunset in Ikaria. You will be served by Thea who is the sweetest and most smiling person.
Tel: +30 22750 71491
Atsachas
Tavern serving homemade food in Livadi beach, in Armenistis. Fresh fish and local meats and fresh vegetables from local producers. Greek traditional cuisine with local dishes. Pumpkin pie, stuffed tomatoes, moussaka, roast lamb with potatoes, meat balls, fish soup, etc.
Tel: +30 2275071226, http://www.atsachas.gr
Zefkin
A tavern with live music in Armenistis. In Ikaria they call "zefkia" the evening feasts with appetizers, wine, music and wild dancing. Zefkin opened in 2008 and it has made quite an impression, with its respect to local tastes, and its new and bold ones. Try the zucchini with tzatziki and chicken cacciatore with peppers and olives.
Tel: +30 22750 71567, http://www.zeykin.gr
Sto Kampi
Located in the traditional square of Agios Dimitrios, it offers snacks, but also main dishes, traditional or non traditional. The ideal location to drink some tsipouro. You will experience unexpected but real events!
Tel.: +30 22750 41641
Vlacholichoudies
A coffee-restaurant in Eudilos, which has been recently renovated. Visit it in the morning for coffee and relaxation on the terraces overlooking the sea and when you get hungry order traditional appetizers, huge stuffed burgers, skewers, grilled meat, homemade fries … All accompanied by local wine.
Tel: +30 22750 32333, +30 22750 32740
Grigoris
Traditional ikarian tavern with homemade food in Faros, 15 km east from Agios Kirikos. The tables almost touch the sea. Try the homemade recipes, like sufiko (mixed vegetables), pies with local greens and herbs, tomato patties and zucchini with sweet pumpkin. The fish are fresh, directly from the boat.
Tel: +30 22750 32208
Leonidas
Fish restaurant on the Faros beach, offering fish to pair with ouzo, but also meat to pair with the local wine. Shrimps and steaming mussels that smell like sea.
Tel.: +30 22750 32202
Artemis
Restaurant in Nas (Kato Raches). Greek traditional specialties in a warm and relaxing environment overlooking the beautiful bay of Nas. You should definitely try the cheese salad and the lamb. For dessert try the homemade rice pudding or the apple pie.
Tel: +30 22750 71475
Klimataria
Tavern in Nas, with fresh fish and homemade food.
Tel: +30 22750 22686
Mantouvala
In Karavostamo. A family business with local produce and fresh fish that they catch themselves.
Tel: +30 22750 71255
Naiades
Serving seafood in Nas (Kato Raches), featuring products from the family estate and fresh seafood from the Aegean. Try the lobster pasta and traditional sufiko. All accompanied with Ikarian wine overlooking a stunning sunset.
Tel: +30 22750 71488, +30 22750 31584
Oinomageirio tis Popis
Tavern with homemade food at Fitema, Evdilos. Located in a quiet location, with a beautiful garden and views of the Aegean. Delicious dishes made out of their own produce. Try the salad with purslane and homemade traditional fouskopita. The lamb (rasko) is baked in the oven.
Tel: +30 22750 31928
Plaka
Seaside tavern in Ano Arethusa, 8 km from Eudilos. Try the tasty appetizers and grilled meat, and accompany your food with red Ikarian wine.
Tel: +30 22750 61491
Klimataria
A fish restaurant in Nas, offering fresh fish and well-cooked dishes.
Tel.: +30 22750 22686